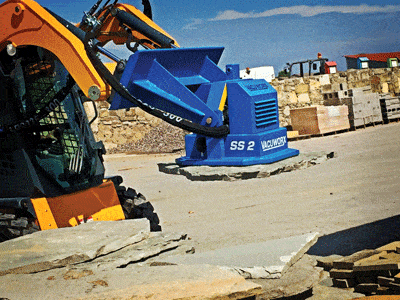 Vacuworx is honored to receive the 2017 Governor's Award for Excellence in Exporting for the second time in four years. Steve Smith, director of International Sales, accepted the award on behalf of Vacuworx President Bill Solomon, presented April 13 at the 34th Annual Oklahoma World Trade Conference at the Oklahoma City University Meinders School of Business.
The export award was created to recognize the achievements of Oklahoma-based organizations that have successfully entered the worldwide marketplace. Tulsa-based Vacuworx was nominated based on its commitment to investing in logistical, environmental and cultural resources and meeting fast-growing worldwide demand for reliable and economical materialhandling solutions.
Since 1999, Vacuworx has been engineering and manufacturing the highest quality heavy-duty lifting equipment for the oil and gas, water and sewer, highway and heavy construction, concrete construction, landscaping and manufacturing industries. By using Vacuworx Vacuum and Hydraulic Lifting Systems, companies can work "Faster" with shorter loading and unloading cycles; "Safer" with fewer ground personnel, reducing the risk of accidents; and "Smarter" with the reduction of project completion times as well as payroll and insurance costs.
"We are in the business of protecting people," said Solomon. "Ultimately, we want to keep people safe in material handling situations around the world. To do that, we get to know both our customers and their specific needs based on where they are operating. More and more of our customers have an international component to their business, and we strive to be in a position to support them wherever the next job may be."
With offices located in Australia and the Netherlands, as well as a growing global dealer network, Vacuworx had a 26% increase in export sales in 2016. Poised for another year of double digit export growth, Vacuworx continues to expand their efforts to move parts and equipment closer to customers and dealers in Canada, Europe, Australia, Latin America, Russia, the Middle East and Africa.
"Vacuworx is honored to be included among Charles Machine Works, TD Williamson, Mathey Dearman and the other past recipients," Solomon said. "Starting at the local level, these world-class organizations work tirelessly to elevate the state of Oklahoma's status in a global economy."
Click here for more on Vacuworx.
Tags:
Governor's Award for Excellence in Exporting
,
Oklahoma World Trade Conference
,
Vacuworx