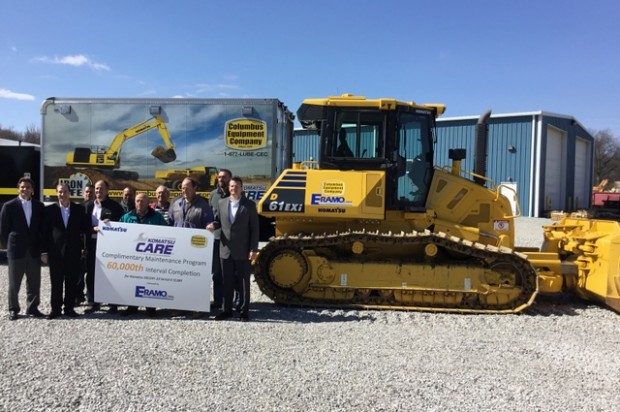 Komatsu America Corp., a leading global heavy equipment manufacturer, and its distributor, Columbus Equipment Co., recently announced the completion of Komatsu CARE's 60,000th service interval. Komatsu America pioneered complimentary maintenance for Tier 4 machines in the construction industry with the launch of Komatsu CARE in 2011.
The 60,000th interval was completed on a Komatsu D61EXi-23. A service certificate was presented to machine owner and Columbus Equipment Company customer, John Eramo & Sons Inc., at a ceremony to celebrate the milestone.
Eligible Komatsu Tier 4 construction-sized machines, whether rented, leased or purchased, are covered by the Komatsu CARE program for the first three years or 2000 hours, whichever comes first. Komatsu CARE includes scheduled factory maintenance, a 50-point inspection at each service and two complimentary Komatsu Diesel Particulate Filter exchanges. For certain Tier 4 machines, Diesel Exhaust Fluid tank flushes within the first five years are available as well.
"If lowering cost of ownership, improving equipment uptime and reliability and protecting capital investment value are important to you, there's no better program available than Komatsu CARE," said Mike Hayes, Director of Service Marketing and Distributor Development for Komatsu America Corp. "No other OEM program offers the kind of protection Komatsu CARE does; it remains the first and most comprehensive offering in the marketplace," Hayes said. "Working with distributors like Columbus Equipment, our customers know they'll have the resources and staff needed to maximize machine productivity and minimize costs."
The Komatsu CARE program is similar to complimentary maintenance programs that have been very successful within the luxury auto industry. Those programs, like Komatsu CARE, can increase residual value on lease returns, increase the price of used vehicle sales, and increase the longevity of component life.
Tags:
Komatsu
,
Komatsu CARE