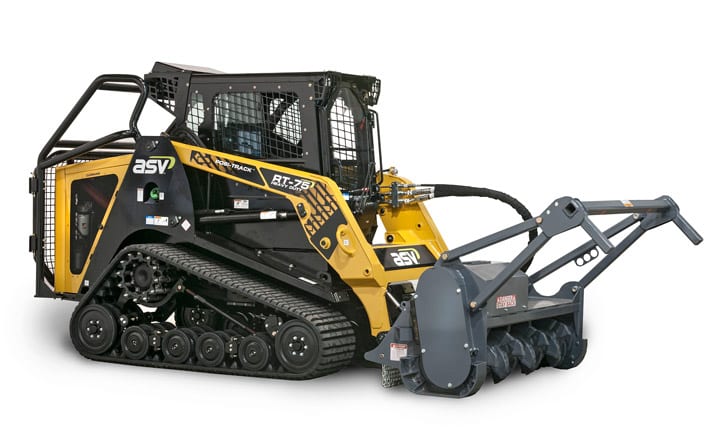 ASV LLC, an industry-leading manufacturer of all-purpose and all-season compact track loaders and skid steers, recently introduced the large-frame, radial-lift Posi-Track RT-75 Heavy-Duty compact track loader for tough applications, such as forestry and excavation. The RT-75 HD features maximum durability and serviceability, innovative high-capacity cooling systems and highly-efficient hydraulics. The machine uses ASV's patented Posi-Track undercarriage to provide the industry's highest ground clearance, lowest ground pressure, longest track life and best traction over all types of surfaces, from brush and mud to snow and ice. The features allow for superior performance in applications such as mulching, brush cutting as well as highway and utility work.
"We're committed to delivering maximum performance — no compromises!" said Jim DiBiagio, ASV general manager. "The RT-75 Heavy-Duty makes our already-tough RT-75 even stronger. The design ensures our customers have a machine built for maximum durability, serviceability and productivity in rough and dirty applications. The RT-75 HD allows workers to limit downtime, get more jobs done and achieve a high return on investment."
The RT-75 HD is a customization of the ASV RT-75. The HD features upgraded durability and optimizations for forestry work. These include metal guarding against brush and debris around key areas, such as lights, the AC condenser and rear screen. The machine blows debris from mulching applications out of the engine compartment screens with a hydraulically driven, autoreversing cooling fan. A full rear brush guard is also available as a factory-installed option. The machine works with all standard attachments, including mulching heads, brush cutters, backhoes, buckets, snow blades and pallet forks.
ASV purpose-builds the compact track loader from the ground up, starting with the undercarriage. The RT-75 HD features the company's patented Posi-Track rubber track suspension. The dual-level suspension incorporates both suspended wheels and axles, providing operators a smooth ride over uneven terrain and at higher speeds. The suspended wheels and fully flexible track conform to the ground, assuring maximum traction in the roughest conditions. In addition, the multiple wheel contact points and three guide lugs — more than many machines that use only one or two guide lugs — achieve maximum performance on steep slopes. The large number of contact points — combined with standard 18-in.-wide tracks — achieve a ground pressure of only 3.6 psi. Buyers can also pair the RT-75 HD with optional 20-in. tracks for an even lower ground pressure of 3.2 psi. The productivity-enhancing features, combined with the RT-75 HD's nearly 15 in. of ground clearance, allow workers to use the unit more comfortably and often in more places than competitive machines.
Over the past 10 years, ASV has completely converted its undercarriage from a closed design — similar to those used on competitive steel-embedded undercarriages — to an open-rail and drivesprocket design. The result is increased sprocket and bogie life and an undercarriage that's easier and faster to clean.
For more information on the RT-75 HD and available options, visit ASV LLC's websites: www.asvllc.com or www.positrack.com. Interested in seeing the equipment for yourself? Visit a dealer near you.